Join our team
Are you looking for an environment where you're surrounded by smart people? Where you can learn? Where you can access the most senior partners? Where you can make a difference?
We are a fast growing law firm going through a period of exciting change and are looking for client-driven, outcomes focused people to join our team.
Here you'll work with the best and brightest who love what they do. You'll join a culture that prides itself on being friendly and results oriented and will have access to even the most senior team members. Most importantly, we lack the arrogance of many other law firms, so you'll not only learn and grow but have a lot of fun along the way.

Recent events
Bartier Perry were proud to host its own International Women's Day event which included a panel discussion with guest speakers Michael Catterall, Antoinette Colbran and Sally Herman. The panel were also joined by our new CEO, Riana Steyn and host Nadine Cooper, to discuss this year's theme #Pressforprogress in light of the #MeToo movement. In support of the day, we were also able to contribute towards the Dress for Success Sydney Empower Hour campaign.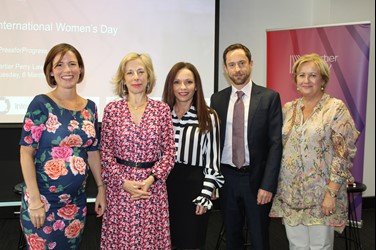 (L-R: Nadine Cooper, Sally Herman, Riana Steyn, Michael Catterall, Antoinette Colbran)


Hear below from our Western Sydney University Scholarship recipients regarding their thoughts on Bartier Perry's culture and the firms focus on the next 75 years. 
Current opportunities
Bartier Perry is a successful commercial law firm based in the heart of the Sydney CBD. The business is on a steady growth trajectory built on a solid platform of experience and expertise.

A fantastic opportunity exists for a dynamic Associate to join our Corporate and Commercial team.

We are looking for a self-starter who has the drive and capacity to succeed in a Corporate and Commercial legal practice. The ideal candidate will possess 3+ years PQE of broad Corporate and Commercial experienc…

Bartier Perry is a progressive and innovative law firm, with a very well established profile in the Sydney legal market.

In response to dynamic changes in workers compensation legal services we are looking for a Lawyer to work in our Defendant Workers Compensation practice. As one of the most highly regarded defendant Insurance practices in Sydney we have an enviable list of clients, including insurers and employers, who seek legal assistance in all aspects of workers compensation.We offer an e…