Checklist for Board of Directors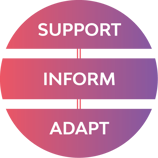 A hotline has been set up for clients to contact us and talk through the challenges you may be facing. If you are in a financial bind, we will provide some initial guidance in relation to credit & finance, supply chain, insurance, restructuring, real estate and construction related matters so together we can work out what your best options are. The number is (02) 8281 7980. You can also visit our online COVID-19 resource page.
24 March - Gavin Stuart
Changes to Directors Personal Liability for Insolvent Trading
The government has announced changes to the regime that governs personal liability of directors for trading while insolvent, as part of the economic response to COVID19.
Ordinarily, a director can be personally liable for debts incurred by a company if at the time the debt was incurred there were reasonable grounds to suspect that the company was either insolvent or likely to become insolvent by incurring the debt. Now, directors have a six month period starting on the day of commencement of the new law during which this obligation will not apply.
The intention is that this temporary safe harbour will allow directors to make decisions to retain staff, pay their bills and continue trading through the COVID19 period. Hence, the moratorium will apply only to debts incurred in the ordinary course of the company's business, and for which the company will still remain liable. What is in the 'ordinary course of business' will be different for each company and will need to be assessed on a case by case basis.
It is also worth noting that the director wishing to rely on this relief will need to prove that they were in the 'safe harbour' created by this new regime if they are ever pursued for insolvent trading in respect of relevant debts.
23 March 2020 - Katherine Ruschen
COVID-19 is front and centre of everyone's mind in 2020 and it should be front and centre for every board of directors. Boards should play an instrumental role in guiding and overseeing their companies in this time of crisis. We are already hearing news of the first COVID-19 related securities class actions being filed overseas. This is no time for boards to be complacent.
We have put together the below checklist of steps every board of directors should consider taking as we all navigate these uncertain and challenging times.
Directors and Officers' Checklist:
Hold board meetings early and often. Call for a special meeting, if necessary. Social distancing should not get in the way – meetings should be held by teleconference, Skype, Zoom, Loop or one of the many other platforms available for the conduct of virtual meetings so as to put everyone's health first. The meetings should provide for updates and strategic planning for supporting the company.

Ensure adequate reporting systems are in place so that the board obtains regular and accurate updated information on COVID-19 relevant to the business operations on a timely basis.  

Take care in the preparation of board minutes and the use of electronic communications, which are likely to be prolific during a time of crisis. Record keeping should be accurate and reflect a considered approach with due diligence being taken in relation to the issues at hand. Avoid erratic or thoughtless written communications given such records could become the subject of a subpoena or discovery in litigation.   

Form special COVID-19 crisis committees to address employee health and safety, cyber security risks, financial risks and any other risks identified in relation to the company.

Undertake an immediate evaluation of the financial strength of the company to weather the pandemic. Ensure the board is across retained capital, cash flow, anticipated expenses and debt. Develop and implement a strategy to avoid going into financial distress and have a response plan ready, should this occur.

Retain appropriate experts to provide advice where necessary or prudent. Federal Government responses to COVID-19 are temporarily changing established laws as they relate to companies and directors (such as recent changes to insolvency laws) and experts will be required to keep directors abreast of these changes.

Review insurance policies and company indemnity agreements. Ensure they are up to date and attend to any upcoming renewals.
Marsh has a COVID-19 resource centre which you may find useful:  https://www.marsh.com/au/insights/research/pandemic-risk-hub.html