Corporate Governance
All companies have duties and obligations to ASIC and other regulators, as well as to shareholders, partners, employees, suppliers and others. And, for publicly-listed companies or private companies on their path to an IPO, these obligations become more complex still.
Our corporate governance team can help you minimise risk, maximise the chances of your board functioning effectively and let you build a robust framework for corporate governance that informs everything you do. We can also support you through any alleged breach of your corporate governance responsibilities, helping you reach the best business outcome.
We can help you by:
Developing an effective corporate governance framework that lets you meet your obligations while optimising your business's chances of success.

Advising you on your obligations to shareholders, ASIC and other regulatory bodies.

Helping you understand and respond to an ASIC investigation so that you reach the best possible business outcome.

Advising you on any laws and regulations that impact on your board's structure and composition.

Making sure your business meets its obligations on the transition from private company to being listed on the ASX, including on the laws around IPOs.

Advising you on your directors' duties under the Corporations Act and other laws and regulations.

Developing best practice corporate governance policies, including corporate charters and codes of conduct.

Advising you on the legal issues surrounding your AGM, including any notice requirements.

Helping you minimise the risk of damage to your business from sensitive information bring leaked.

Advising you on how to fulfil your role as director.
Publication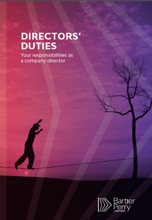 Directors' Duties - Your responsibilities as a company director